Last year, Norsk Tipping introduced three new responsible gaming measures that reduced our revenue by around NOK 200 million. At the same time, we set records for customer numbers and the surplus funds raised for good causes.
This means that Norsk Tipping is delivering on its threefold social mission. The framework surrounding responsibility has never been better. Our games are competitive and channelled 2,040,000 Norwegians into the safe, legal gaming environment.
The surplus funds for good causes increased to almost NOK 5.7 billion. The amount transferred to Tippenøkkelen will be kept at the same level as in 2019, while NOK 131 million will be transferred to equity. This will allow us to compensate for some of the fall in revenue we expect in 2020 due to the coronavirus situation. We are committed to ensuring that the recipients of surplus funds get the stable income they need from gaming revenue.
28 per cent of our customers are younger than 40 and we are constantly developing our portfolio to make sure we remain relevant for all ages groups over 18. In 2019, we commenced a partnership with Good Game, which operates the e-sports league in Norway. This allowed us to introduce betting on e-sports objects in Oddsen.
Gaming and responsibility
Lotteries remain our big attractions and also saw growth in 2019. They are also engaging younger target groups with more than 90 per cent of our customers under 40 playing lotteries last year. From the perspective of responsibility, it is important that the games associated with the lowest risk of causing gambling problems are leaders in the market.
At the same time, the demand for high-risk games is growing and we are taking market shares from the unregulated gaming companies. It is clear that these customers bring with them a more intensive pattern of gaming. This is contributing to the fact that, overall, our customer base has slipped slightly in the direction of more unhealthy consumption. We are currently working on reversing this trend.
Norsk Tipping wants to be recognised as a world leader in gaming responsibility and we are continuously working on measures that target customers at risk.
Our efforts are being noticed and we are often invited to present our measures at international conferences. In the European Lotteries' responsibility audit in 2019, we became the first gaming company ever to score 1,100 points out of a possible 1,100 points. We have also boosted our communications about gaming responsibility in public campaigns on TV and in social media.
Regulation
The Norwegian gaming regulations were challenged in no fewer than three lawsuits last year. The government won all three. There will probably be more if, as planned, the government eliminates the loophole allowing unregulated gaming companies to advertise gaming on Norwegian TV channels that broadcast from abroad. This amendment to the Norwegian Broadcasting Act will be the single most important gaming policy measure since the reform of slot machines in 2007. Once again, Norwegian politicians are proving that they will not let regulations be dictated by massive market pressure.
All this is happening at the same time as the Norwegian Gaming and Foundation Authority is enforcing the prohibition on transferring money to and from foreign gaming companies ever more effectively. This measure is now making itself felt in the accounts of the unregulated gaming companies.
The government is in the process of finalising a draft new Norwegian Gaming Act, which will replace the current Gaming Act, Totalisator Act and Lottery Act. As part of this work, the government considered moving horse racing betting from Norsk Rikstoto to Norsk Tipping, but ultimately decided to leave the current system in place in April 2020.
Social responsibility
We are constantly working to integrate social responsibility into our processes. In addition to the core area of responsible gaming activities, business ethics, anti-corruption, human rights, and the climate and environment have all been identified as being priority areas. In 2019, we started a project to ensure that social considerations are addressed in all procurement processes.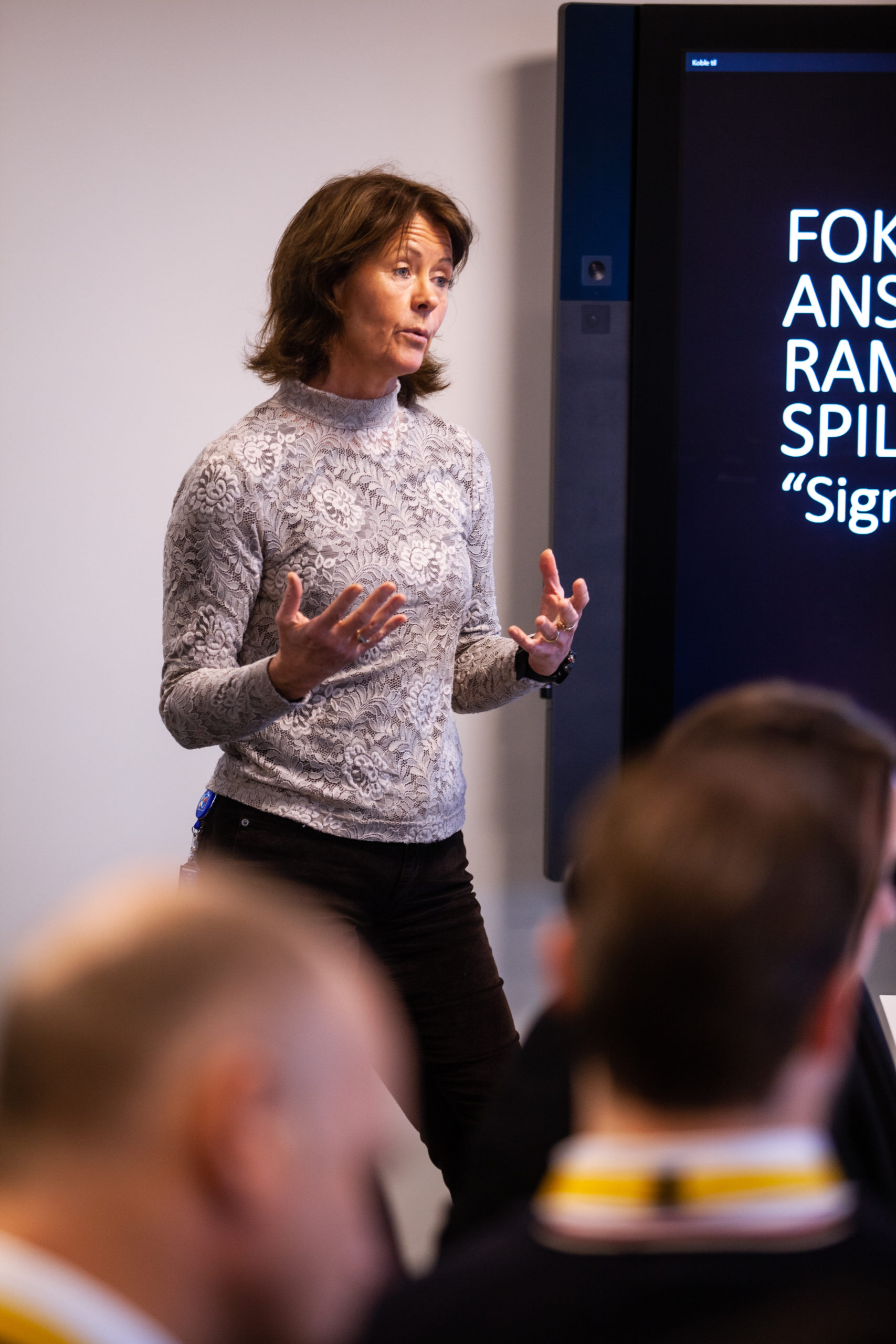 Photo: Norsk Tipping
As a social actor, we want to contribute more than what is formally required of us. We support the UN Sustainable Development Goals and identified gender equality as an area where we can have a positive impact. All of our sponsorship partnerships with sports now include equal opportunities as an explicit part of the agreement. We have also extended our focus on the area of culture together with Talent Norge, the Norwegian Film Institute, and the Norwegian National Opera & Ballet.
In parallel with this, we are taking a systematic approach in-house. We set our own targets for gender balance and diversity. By the end of 2022, Norsk Tipping wants to be in the top ten list in the SHE Index.
Equipped for the future
Following a major reorganisation in 2018, 2019 was the year we made the new organisation work. We no longer sit next to each other working in separate silos, instead we work across disciplines in autonomous, multidisciplinary teams. We are working smarter and delivering faster than before. Digital's share of the revenue was 59 per cent. Our cost ratio continues to fall, and is now at 31.3 per cent. This means we are well-equipped to deliver in all areas in the years to come as well.